This photo tutorial is for the whip stitch, useful in sewing two pieces of felt together. Start by threading your needle, and tying a knot in one end.
1. Put needle through felt, from in between pieces.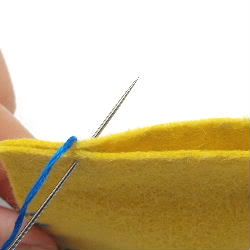 2. Next, pull needle all the way through and put needle through both pieces of felt- slightly at a diagonal.
3. Continue this process, always putting your needle through the same side of fabric. Evenly space stitches- for a neater look.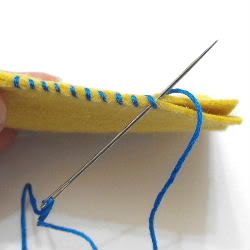 4. When ready to tie off with a knot- put needle through last stitch to make a loop.
5. Put needle through loop- and pull gently until a knot forms.
For a blanket stitch tutorial
click here.